Events

Living the Vision – Online Orientation Session
October 4, 2021
@
10:30 am
–
11:30 am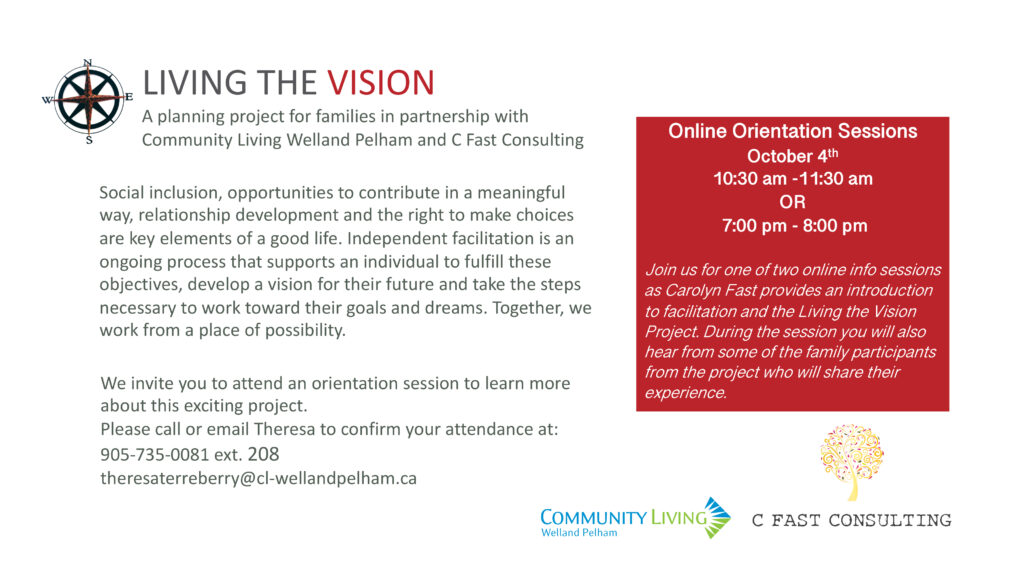 For Families supported by Community Living Welland Pelham
LIVING THE VISION is planning project for families in partnership with Community Living Welland Pelham and C Fast Consulting Social inclusion, opportunities to contribute in a meaningful way, relationship development and the right to make choices are key elements of a good life.
Independent facilitation is an ongoing process that supports an individual to fulfill these objectives, develop a vision for their future and take the steps necessary to work toward their goals and dreams. Together, we work from a place of possibility.
We will be supporting 4 families this year with the project. Online Orientation Sessions October 4th10:30 am -11:30 amOR7:00 pm – 8:00 pm Join us for one of two online info sessions as Carolyn Fast provides an introduction to facilitation and the Living the Vision Project.
During the session you will also hear from some of the family participants from the project who will share their experience. Let me know if you are interested in applying for the project and attending the sessions.
Kerry Thomas
905 735 0081 ext. 249
kerrythomas@cl-wellandpelham.ca