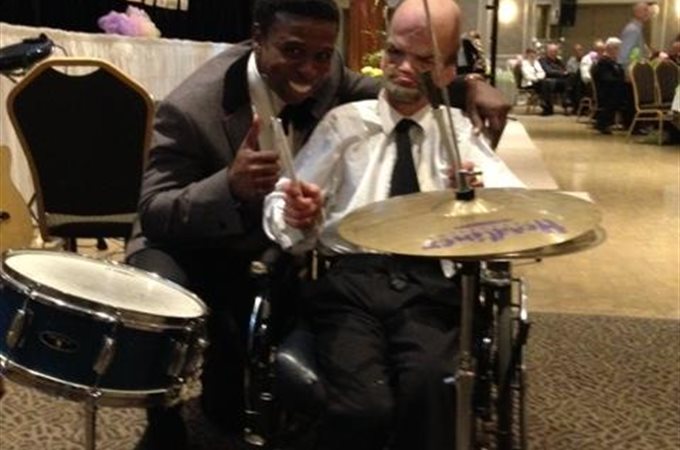 Perry Wilson is the original drummer for Momentum Choir, he has been performing with them for 6 years.  Perry takes great pride in being a member of Momentum and often introduces himself as "the drummer for Momentum Choir". Perry says he feels like he was meant to be drumming and looks forward to Choir rehearsal every week.
Perry has travelled with Momentum Choir for many performances including an audition for Canada's Got Talent in Toronto. When Perry hears a song he likes on the radio, he laughs and says he thinks Momentum should perform it. Thanks to Perry's suggestion, Momentum Choir now performs "Thank You for Being a Friend" the theme song to Perry's favorite television show The Golden Girls.
After performing at a fundraiser in Niagara Falls, Perry had the opportunity to meet retired CFL legend Pinball Clemens!
Pinball said that Perry inspired him with his drumming and asked if they could have some photos taken together. Pinball brought Perry's drums out to the main auditorium for the photos to be taken and told Perry that he has always wanted to be a roadie!
It was a fun and memorable evening  Perry will never forget!